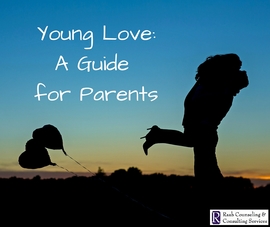 So your teen has their first boyfriend or girlfriend. How exciting! Are you excited? Maybe? This can be a tricky time in parent-child relations. I'm guessing a few things are happening: Your child is smitten. You are nervous. Maybe you feel like you need some help.
Here are my top tips for what to do next.
Spend time with your child's boyfriend or girlfriend. Get to know this person. Hopefully, you will be able to see what your child likes so much about them. Also get to know their parents. This could come in handy in a variety of ways.
Be clear about your expectations for the relationship. This may not make you a popular person with your child. However, even the healthiest teen relationships will benefit from some boundaries. Consider are the types of dates you will allow your child to go on, acceptable amount and timing of phone/text usage to communicate, and supervision expectations in your home and in the community. Do allow space for them to see each other. Being overly restrictive in this area can backfire.


Talk about sex. Even if you've already had the "birds and the bees" talk with them, keep the conversation going. This may be the first time that some of the information your child learned in sex ed is really applicable in their world. While some of you may have deeply held beliefs that drive your ideas about sex, I respectfully suggest that you remain open to the fact that your child may make different choices for themselves. One of the fastest ways to alienate your child is to vilify their decisions around their own sexual behavior. If you need help talking about healthy sexuality and consent, start here.


Keep the lines of communication open and express concerns respectfully and privately. If you want to know how things are going in the relationship, just ask! These conversations are best done privately and without siblings or extended family members present. This increases the likelihood of your teen talking about concerns they may have about the relationship.


Keep your calm. If your teen tells you something that is worrisome, it is easy to feel panic and jump into action mode. Refrain from freaking out in the moment. Rather, take a few breaths, express your concern calmly and then ask your teen how you can help. Here are some other ideas if you are worried about violence in your child's relationship.


I hope these tips help you feel more confident as your child enters an exciting time in their life. Be sure to use your own personal support system if you need a little guidance as you embark on this journey with your teen!
---
Bethany Raab is a Licensed Clinical Social Worker in Denver, Colorado.
She is dedicated to helping teens and families be happy and healthy!