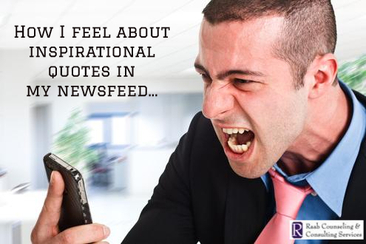 Not really. Okay, Maybe a little….
I've been thinking a lot lately about the inspiring quotes I post on my
Facebook
page. In addition to the ones I post, I see at least twenty mantras and positive affirmations online every day. Some of them give me warm fuzzies, make me laugh or make me think about something differently. Sometimes, however, they just annoy me. The "don't worry, be happy" brand of attitude sometimes grates on my nerves (sorry Bobby McFerrin).
Noticing my own shifting attitude toward mantras and affirmations, I began to wonder....
"do these actually help people who are feeling sad, anxious or bad about themselves?"
"are parents the parents I want to reach actually inspired by these quotes?"

"do teens reading my page think these affirmations are all a bunch of BS?"

I began doing some reading on the value of positive self-talk and affirmations and have found mixed reviews. In fact, some of the research seems to match my "sometimes I like it, sometimes I don't" feelings. Here are a few articles I came across from
Psychology Today
and
The Emotion Machine
.
One thing the research seems to say is that mantras/affirmations
can
be helpful to people experiencing depression, anxiety, stress and other distressing situations. This is particularly true if they are used consistently and combined with counseling or coaching services. It is this last piece that is missing with the flood of mantras and positive affirmations that are floating around all over the internet.
I am a counselor and, to be honest, I talk with many of my clients about what to do with the barrage of negative thoughts many of them experience. My goal is to add a bit more meat to the affirmations and mantras I post to help them be more meaningful. While this is not intended to replace formal counseling or therapy, I'm hoping it will help some of the smiley faced mantras and quotes speak to you.
What do you think about positive affirmations, inspiring quotes and mantras?
W
hat is your favorite (or least favorite) quote or saying?
I'd love to know and maybe I'll feature it - and you - on an upcoming blog post!
---
Bethany Raab is a Licensed Clinical Therapist in Denver, Colorado.
She is dedicated to helping teens and families be happy and healthy!


Bethany is also dedicated to reducing the stigma against people with mental illness and writes to further this effort.

---