What to Expect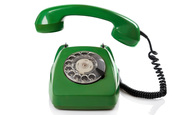 Phone Calls, Emails and Texts
When you call Raab Counseling & Consulting Services, you are calling me directly. I handle all my calls and do not use a receptionist. This enables me to provide personalized service for all current and prospective clients. You may reach my confidential voice-mail, as I do not answer the phone when I am in session, in the evening, or on weekends. Please note: many of my sessions are in the afternoon and evening. This may limit my ability to return calls received late in the day.

Your privacy is important to me. Do not discuss personal matters in email or text messages, as I cannot guarantee your privacy. If you need to discuss private matters, only use email or text messaging to set up a time to speak with me. I return emails and texts within two business days. Please call me if you need more immediate help.
---
Your Initial Consultation
Our first conversation will generally be a 15 minute phone call. I will ask a few questions to assess my ability to help you. Please be ready to speak briefly about what you would like to work on in therapy. Providing excellent care is of the utmost importance to me. I am careful to practice within my areas of expertise. I will give you other resources if I am not able to meet your needs.
If we agree that I may be a good fit for you, we will discuss my fees. Please tell me if you want to use insurance or an Employee Assistance Plan (EAP) to cover your sessions.
Click here to see if I accept your insurance plan.
Parents: be prepared to discuss who has custody if your child or teen is under 15 years of age. I am legally obligated to obtain written documentation of custody if the biological parents are not married, or if the child is not currently in the custody of the biological parent(s). Please understand that I cannot see your child if all necessary signatures are not received before our first session or if I am unable to confirm the custody agreement.
Next, you will need to complete my intake consent forms. I will email you a link to complete my paperwork online. The forms include demographic information, my professional disclosure, privacy policies and a brief questionnaire. We will complete a few additional forms during our first meeting.
Please note: teens over the age of 15 must sign their own paperwork. Colorado requires teens ages 15 and up to consent to their own medical and mental health treatment. By completing the forms before our first session, we can spend more time talking about your needs, rather than completing paperwork.
Your First Session
After introductions, I will check over your intake paperwork. I will review my office policies with you and then we will get started. It is helpful to talk with you about many different aspects of your life. Topics will include home, school, work, friends and social activities. This information helps me get to know you and understanding of who you are as a person. I generally do not include parents in this part of the intake. Parents will need to review paperwork and discuss the reason for coming to therapy.
Ongoing Therapy Sessions
In the beginning, we will talk about your goals and different ways to achieve them. I typically recommend weekly sessions in the beginning to help us get to know each other better.
I want you to use your talents and passions in our sessions. We can use movement, music, drawing, coloring, or writing as tools in sessions. Sometimes I will give you assignments to work on between sessions. I believe it is important to think about what you are learning between sessions. This often helps therapy be more beneficial.
What is Expected of You
Therapy requires hard work and open communication. These are essential for you to receive benefit from therapy. I believe therapy is an active and collaborative process between client and therapist. I will not tell you what to do, but I will listen and work with you. I will help you identify new ways to manage the challenges you are facing. I encourage questions and feedback from you about what is helpful and what is not. I will provide support throughout the therapy process. I will also push you to grow and try new ways of thinking and behaving.
Your Privacy
Your privacy is important. I want you to feel safe talking to me. By law, I am not allowed to talk to anyone about you or your therapy without your permission. To get your permission, I will have you sign a Release of Information form.
There are a few exceptions to this rule. These situations require me to share information about you with others without your permission:
If I suspect a child or vulnerable adult is being physically, sexually or emotionally abused.
If you are threatening to harm yourself or another person(s).
If I receive a court order from a judge.
It is against the law for me to not share information in these situations.
Safety
Your safety is my number one priority. If I learn that you are being hurt, considering killing yourself or threatening to harm another person, I am legally required to take action on your behalf. Over the years, I have discovered that some situations exist that do not rise to the level of needing to get you immediate help but should be addressed with the adults in your life. A few examples are drug and alcohol use, self-harming and not eating. If you talk to me about these kinds of situations, we will work together to decide how to talk to your parents about them.
Your Parents' Involvement in Therapy
When a teenager sees me for therapy, I almost always work with their parents. Parents usually want to know how therapy is going because they care. I typically invite parents into the first 5 minutes and last 5 minutes of each session. This allows us to check in and share important information, especially any concerns about your safety. How involved parents are beyond check-ins is determined on a case-by-case basis.
It is important for teens to know that, outside of safety risks, what we talk about together in sessions is private.
What if You Want to Stop Coming to Therapy?
You and your family can decide to end therapy services at any time. A good fit between you, your family and a therapist is crucial to success of the therapy process. I will be glad to provide referrals if you would prefer to see someone else.
Cancellation Policy
Please call to cancel sessions 24 hours in advance. If you cancel your session late or do not come to your session, you may owe the full amount for the session. Payment for the missed or late-cancelled session is required before your next appointment.
Visit the Frequently Asked Questions Page for more information!
---
Bethany Raab, LCSW
720-722-0527