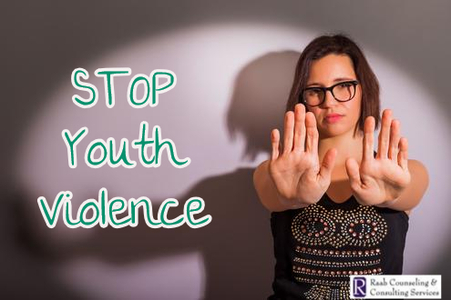 One in four American students will be affected by youth violence this year.

(Students Against Violence Everywhere, SAVE)
Youth violence includes bullying, school violence, criminal acts, gang violence, teen dating violence and more.
These issues can have an immense impact on victims. Teens who have been hurt may respond in a variety of ways including (but not limited to) anger outbursts, depression, anxiety or self-harming behaviors.

Now for some good news!
The National Criminal Justice Reference Service
reports that teen violence has decreased significantly in the last 20 years. This is the result of a lot of hard work by teens, parents, schools, law enforcement and various government and private agencies. While this is fantastic, it does not mean the problem of youth violence has been solved.
There is still more work to be done.
Wondering how you can help?
Here are 5 ways you can help support the anti-youth violence message at home
:
Act it out – Help your child practice assertive ways to deal with bullies and peer pressure by acting out a difficult situation together.

Draw it out – Have your child create a drawing related to violence understanding and prevention. A few ideas: Show a time that you felt unsafe. Draw a picture of someone who has been hurt or is scared. Draw a picture of you handling anger in a healthy way.
Talk it out – Talk about the realities of youth violence with your children on an ongoing basis.
Walk it out – Go on a walk with your child and discuss how exercise and other coping skills can help them calm down when they are angry or upset.
Write it out – Ask your child write a letter to someone who has hurt them OR to someone they hurt. This can help them develop empathy for others and a better understanding of their own actions and feelings.
Now is a great time to give these a try in honor of National Youth Violence Prevention Week (March 23-27, 2015). Even if you miss the week celebration, there is never a bad time to talk to your kids about youth violence.
---
Bethany Raab is a Licensed Clinical Social Worker in Denver, Colorado.
She is passionate about helping teens and families be happy and healthy!