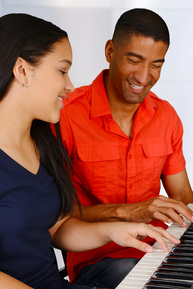 I often hear this statement from teen clients: "video games are my hobby." I get it. Video games are fun and popular with teens. However, they aren't exactly a hobby... The point of having a hobby is for a person to be engaged in an activity they love that can also help them learn new skills and to create healthy relationships with peers and authority figures.
Livestrong
says it best, "Hobbies provide many mental and physical health benefits, including bolstered optimism, increased creativity and a better ability to deal with stress. Sharing hobbies with others also keeps teens socially engaged with people who have similar interests. The type of hobby a teen is interested in is limited only by the imagination of the person."
Don't have ideas of what to try?
Check out this list
.
Or this one.
For parents: Having a hard time getting your teen interested in developing a hobby?
Try sitting down with a list of hobby ideas (like the ones referenced above) and ask your child to pick the three activities they are most interested in trying. Once they have narrowed down the choices, see what is available in your area and get them signed up for a class or excursion.
If your child is shy or worried about trying something new, encourage them to invite a friend or even take a sibling along. Parents can always join in to help their teen feel more comfortable.
Cost can be an issue with some hobbies. Talk with your teen about your ability to pay for their hobby. Be honest and ask them to help! You'd be amazed what teens are willing to do in order to fund something they love. Part-time jobs, mowing lawns, scooping snow and extra chores are all good ideas to consider.
Remember, this can be a process! Encourage your child to try something a few times before deciding they "hate it." If one activity is not a good fit, try another! Over time, your child will find something they like, or maybe even love!
PS: I chose the picture of a teen piano player because this was one of my hobbies as a teen!
---
Bethany Raab is a Licensed Clinical Social Worker in Denver, Colorado.
She is passionate about helping teens and families be happy and healthy!