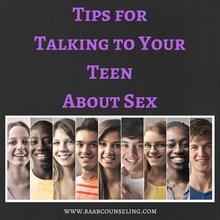 Is it time to have that most dreaded conversation with your teen?
Are you wondering why YOU need to talk to your teen about sex?
Trust me, you are not alone!
Learn my TOP THREE TIPS for talking with your teen about sex in my my recent interview with
Ariel Friese and the Counselor Chronicles
.
Click on the video link below to get started!
---
---
Bethany Raab is a Licensed Clinical Social Worker in Denver, Colorado.
She is dedicated to helping teens and families be happy and healthy!