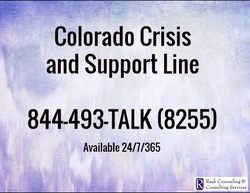 On August 12, 2014, the Colorado Crisis and Support Line opened its doors. This new statewide crisis hotline is open to anyone in Colorado who needs emergency mental health assistance or is seeking extra support. All callers can expect to speak to a trained mental health professional. Phones are answered 24 hours a day, 365 days a year.
The crisis line phone number is
844-493-TALK (8255)
You do not need to live in Denver to use the hotline!
It is available to EVERYONE in Colorado!
The crisis line advocates can assist callers with a variety of personal and mental health emergencies.
Here are a few reasons you might call the hotline:
You are having thoughts of committing suicide.
You are considering harming others, either one person or many.
You are experiencing distressing symptoms of anxiety, depression, paranoia, or other mental health problems.
Coloradans may also call the hotline if they are concerned someone they know may be dealing with these situations.
Please, if you need immediate assistance with a life-or-death situation, call 911 or go to your nearest emergency room.
The hotline is run by the Colorado Department of Human Services (CDHS) and Metro Crisis Services.
Click here to read the CDHS press release on the opening of the crisis line.
---
Bethany Raab is a Licensed Clinical Social Worker in Denver, Colorado.