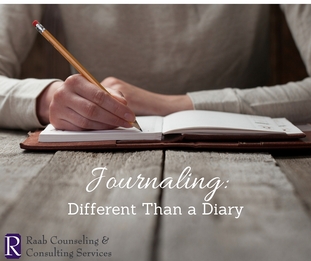 The word DIARY takes me back to my childhood. I wrote in a diary off and on for many years. Those books, pretty things adorned with cheap locks, are now gone.
Still, I remember them vividly. I wrote about the day-to-day events of my life. My childhood pet, school projects, friends and the names of my crushes all found a home in my diary. My diaries were dear to me. They were carefully protected from prying eyes.
Looking back, these books played a significant role in my daily and weekly routine as a child and as a teen. I wrote down events I did not want to forget.
These days, I still write, though not as often as I did as a younger person. The habit of writing down daily details and special events is difficult for me to prioritize in my schedule. It simply does not happen on a regular basis.
The kind of writing I do more frequently sounds similar, but it is not the same.
I journal.
How is journaling different than keeping a diary?
Simply put, a diary is a record of events. A journal is writing with the purpose of reflection and growth. Keeping a journal is more personal and requires more vulnerability than a diary.
A quick Google search will show you that journaling is not only popular, but also beneficial. It is useful as a way to help manage stress, anxiety, depression and grief. It is a tool often used in counseling to help people gain a better understanding of their struggles and their strengths.
Where do I start to help my child or teen gain the benefits of journaling?
Start with yourself. Get some paper, a notebook or a computer in front of you and start writing. Your experience with journaling can help inspire your teen to do the same.
In the meantime, here are three prompts to get you started:
What was the hardest part of your day? What was the best part of your day?
Joy can be found everywhere, even on the worst days. What brought you joy today?
What are you thankful for today? List at least one person, one item and one experience.

Ready for more? Check out my other posts about journaling. One includes a year's worth of journaling prompts!
10 Journal Prompts for Teens and Parents
52 Journal Prompts to Help You Connect with Your Teen This Year!
---
Bethany Raab is a Licensed Clinical Social Worker in Denver, Colorado.
She is dedicated to helping teens and families be happy and healthy!