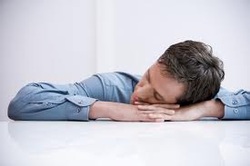 Fall and winter months bring familiar images of holiday parties, hot chocolate and, in Colorado, skiing and other winter sports. The cooler months bring excitement for many, while others have a different experience. Some people notice increased sadness, low energy levels, weight gain, a tendency to oversleep, irritability and a general "blah" feeling beginning in the fall and often lasting through the winter. These and other symptoms of the "winter blues" affect approximately 14% of Americans according to the
National Center for Biotechnology Information
. However, 6% of Americans experience a more marked set of symptoms known as Seasonal Affective Disorder, often referred to as SAD. Both the "winter blues" and SAD are frequently linked to a decrease in exposure to light during the fall and winter months. According to the
Mayo Clinic
, the actual causes of SAD are largely unknown
.
The good news is that SAD is a treatable condition. The Mayo Clinic recommends several types of treatment for SAD including light therapy and medication, both of which should be discussed with your doctor. Psychotherapy is also recommended as an effective form of treatment.
Click here to learn more from the Mayo Clinic
.
Now for some more good news! A variety of alternative treatments for SAD can be utilized at home on their own or combined with a plan you discuss with your doctor. Here are a few ideas:
Avoid oversleeping - Go to bed at a reasonable time and get up with your alarm. Avoid napping if possible or set your alarm to wake up after a 20 minute cat nap.

Stay on a schedule - Do your best to continue with your normal responsibilities. Maintaining a structured daily schedule can be helpful when managing depression.
Spend time with friends and family - It is important to avoid isolating, even when you do not feel like socializing. Talk with your closest friends and/or family members about how you are feeling and enlist their help. Remember, even a quick phone call may be enough to give you a boost!
Stay active - Sticking with an exercise regimen, even in the coldest months is an effective way to manage symptoms of SAD. See last week's blog for more ideas!
Get outside - Sunshine and fresh air have many benefits, both physically and emotionally. Luckily, Coloradans have an abundance of sunny days throughout the fall and winter. If you live somewhere with less sun, try to get outside frequently, even if you have to bundle up to stay warm!
Take a yoga class - Yoga is a great activity for your mind and your body. Check out these articles about the benefits of yoga for people who are managing depression: Yoga: Not Just an Exercise and Yoga Helps Relieve Depression, Sleep Problems.

If you are feeling the effects of SAD as winter approaches, rest assured that you are not alone! Give some of these suggestions a try today. Finally, don't hesitate to speak with your doctor if you feel as though you need help managing symptoms of Seasonal Affective Disorder.
---
Bethany Jones Raab is a Licensed Clinical Social Worker in Denver, Colorado.