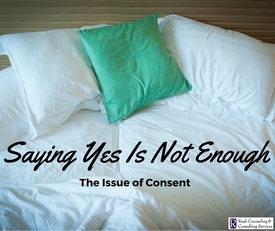 Have you had chance to talk to your teen about the definition of consent for sexual activity? If so, what did you learn? If not, what is keeping you from asking?
In case you missed it, check out part one of this post to learn more:
The #1 Parenting Mistake You Don't Know You're Making
.
When I ask teen clients about what consenting to sex means, I typically get one of two answers.
Saying yes.
I don't know.


Do either of these sound like the answer to your question from your teen?
The truth is,
simply saying yes to sex is not enough
. Making an assumption that you know what the other person wants is definitely not enough.
Keep reading to learn more about all of the aspects of giving
true, informed consent to sexual activity
.*
Every state has a legal age of consent for sexual contact. In Colorado, a child younger than 15 years of age cannot give consent to sexual behavior. Also, unless both partners are over the age of 18, one person cannot be more than 3 years older than the other.
Each person needs to be sober and "in their right mind." Being high, drunk or on intoxicating prescription medications means a person cannot truly give consent. Also, both people must be awake and function at about the same level of intelligence.
Both people must be equals. One person cannot be in a position of power over the other. This means that babysitters, teachers, and bosses cannot have sex with the people they watch, teach or supervise.
The sexual partners cannot be related. Generally speaking, this includes relatives by blood, adoption and marriage.

Both people understand and agree to the kind of sexual behavior to be done. Do not make assumptions. The only way to know if someone is consenting to have sex with you is by TALKING ABOUT IT.
Sex should happen in the context of a relationship. This is a controversial point to many in a society where "one night stands" are common and accepted by many. Here's the thing… how can you be absolutely certain that all of the above criteria are met if you do not know the person? You can't. Period.
Now is the time to start talking with your teen about consent. If you don't, who will?
*This blog post is meant to be purely informational. The writer is not able to provide legal advice or instruction in anyway. Questions about specific examples will not be answered in the comments. Please contact an attorney if you have questions or concerns.
---
Bethany Raab is a Licensed Clinical Social Worker in Denver, Colorado.
She is dedicated to helping teens and families be happy and healthy!