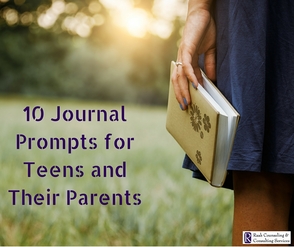 Need a new way to communicate with your teen?

One of the neatest tools I have come across in my years as a teen therapist is a journal specifically made for adolescent girls and their mothers. It is a "back and forth" style book to help young women connect in a meaningful way with their mom.

The thing is... not every teen girl has an involved mother, and not every mother has a teen daughter. Plus, boys and fathers are left out of this activity entirely!

Below you will find ten journal prompts to share with your teenage son or daughter. These are a mix of fun/silly topics and more serious, thought-provoking prompts.

First, choose a book or notebook that you will share. (You can also type documents on a computer, but give the handwritten journal a try first!) Pick a pen to keep with your journal. Agree on a safe place to leave the book for the other to read. It is important that both of you agree that what is written is private and not to be shared without the other person's permission.

Okay! Now you're all set! Click below to access TEN prompts to get you writing!

Like this? Click here for a year-long set of journal prompts for teens and their parents!
Want to begin writing in your own journal? Go here to get started:
Journaling: Different Than a Diary
---
Bethany Raab is a Licensed Clinical Social Worker in Denver, Colorado.
She is dedicated to helping teens and families be happy and healthy!