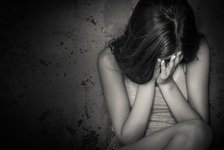 Do you know if your teen is being abused?
What should you be looking for?
You may notice your daughter seems anxious or worried more than usual.
Your son may have developed unhealthy behaviors like smoking, drinking, or exercising too much.
Your daughter may be withdrawing from friends or family. She may also be avoiding activities she used to love.

You may notice your son's girlfriend or boyfriend checks in with him frequently and wants to know where he is all of the time. This is likely disruptive of his other activities.
You might hear your daughter make excuses for her boyfriend. She may justify his behavior and defend him.
The truth is....

1 in every 10 teens has experienced dating violence. Nearly as many have had unwanted sexual contact at some point in their teen years. (CDC)
Teen dating violence happens to both boys and girls and in straight and gay relationships. It can include physical, sexual, emotional or verbal abuse.
Sound familiar? Worried about what to do next?
Read my post on how you can respond:
Your Teen is Being Hurt: What You Can Do to Help
---
Bethany Raab is a Licensed Clinical Social Worker in Denver, Colorado.
She is passionate about helping teens and families be happy and healthy!